Pandit Shankar Ghosh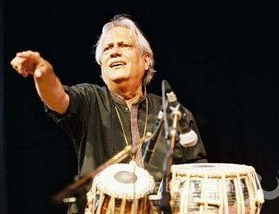 Pandit Shankar Ghosh (born 1935) is one of the ace tabla players of the Farukhabad gharana. He is also an occasional Hindustani classical singer and follows the Patiala style. He was awarded the 1999-2000 Sangeet Natak Akademi Award in Tabla, the highest Indian recognition given to practicing artists.
He started taking taleem in 1953 under Pandit Jnan Prakash Ghosh. His other gurus were Ustad Feroz Khan, Pandit Anath Nath Bose and Pandit Sudarshan Adhikari.
He started touring the US in 1960s with sarod maestro Ustad Ali Akbar Khan and won rave reviews. Over the years he toured with Pandit Ravi Shankar, Ustad Vilayat Khan, Pandit Nikhil Banerjee, Sharan Rani, Pandit V. G. Jog and others. In India he has performed with vocalists such as Ustad Bade Ghulam Ali Khan, Pandit Omkarnath Thakur, Pandit Vinayakrao Patwardhan, Girija Devi and Smt. Akhtari Bai. During his stay abroad he also collaborated with artists like Greg Ellis, Pete Lockett and John Bergamo.
He has received awards like ITC Sangeet Research Academy award and the Ustad Hafiz Ali Khan award. He has been teaching tabla over three decades, presently he teaches in institutions at Kolkata, Paris and Bonn. Many of disciples are performing internationally and some of them are enjoying global recognitions.
Pt. Vijay Kichlu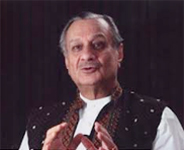 Vijay Kichlu, a Master of Arts from the University of Allahabad, is a unique combination of executive ability and artistry. After an impressive career as a mercantile executive, Vijay Kichlu joined ITC Sangeet Research Academy at its very inception in 1977 as its Executive Director. Totally committed to classical music, its propagation and preservation, he remained at the helm of this unique Academy till March 2001.
Although he did not take music as a profession, Vijay Kichlu has been recognized as a leading vocalist of the Agra gharana in the country with an impressive standard of musicianship.
His initial training in the music commenced at the tender age of seven with Pandit Nathuram Sharma. Later he was greatly influenced by the 'gayakee' of Ustad Faiyyaz Khan, the colossus of the Agra gharana. While in college at Varanasi, he had the good fortune of becoming the disciple of Ustad Moinuddin Dagar and Ustad Aminuddin Dagar, popularly known as "Dagar Brothers". Later he took guidance from the late Ustad latafat Hussain Khan of the Agra gharana. He follows the Agra gayakee, his forte lying in 'alaapchari' in the traditional Dhrupad style compositions in the 'madhya laya' and 'boltans' true to the character of the gharana gayakee.
Vijay Kichlu is an 'A' graded artiste of All India Radio and Doordarshan. He appeared several times in the National Programme of music of All India Radio, Radio Sangeet Sammelan and the National Programme of Doordarshan. This apart, he regularly appears in All India Radio and Doordarshan, Kolkata.
He has an impressive record of public performances of classical vocal music all over India. The genuine old world charm of Agra gayakee is Vijay Kichlu's striking power. He has to his credit numerous successful concerts given all over the world. He also participated in the Festival of India held in the USA.
An erudite musician and a very fluent speaker, Vijay Kichlu is a well-known name in the musicological circles. His lecture/demonstrations and compact workshops are pleasantly enlightening for the listener and participant. He has made significant contributions in several important musical and musicological meets all over the world significantly in Italy, Philippines, the United States of America and West Germany. He has been granted Honorary Citizenship of the State of Maryland and the Mayor of Baltimore respectively in appreciation of his services for the promotion of Indian Classical Music in USA.
Back home, he has been honoured with a title of "Kala Vipanchee" by Dr. M. Balamuralikrishna Trust, Chennai and the title of "Sangeet Ratna" by Salt Lake Cultural Association, Kolkata. He has also been honoured with the Sangeet Natak Akademi Award in 2006 and the Bhuwalka Award in 2008.
Professor Asit Kumar De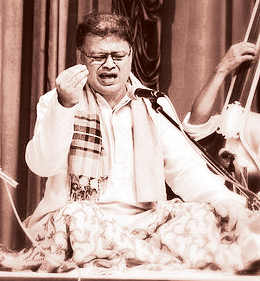 Asit was born in a musical family and had an upbringing among well-known musicians. In his childhood, Asit had the unique and rare fortune of learning directly from the Veena and Dhrupad exponent Ustad Muhammed Dabir Khan of Beenkar Senia gharana. Ustad Dabir Khan, the last notable daughter-side descendant of the legendary Miyan Tansen, was the grandson of the great Ustad Wazir Khan of Rampur who was the guru of Ustad Hafiz Ali Khan and Ustad Allauddin Khan. Asssociation with Ustad Dabir Khan continued till he died, and, in addition to the most rigorous and traditional introduction to Hindustani ragas, it also gave Asit the opportunity to regularly listen to some of the true greats from close quarters. Later, Asit learned Khayal for long periods also from Pandit Amiya Ranjan Bandyopadhyay of the Vishnupur gharana of Bengal and from Pandit Ajoy Chakraborty of the Patiala-Kasur gharana. A big inspiration of Asit was the continuous guidance of his eldest sister Mrs. Sabita Ghosh who died recently at the age of 78 and was herself a long-time disciple of Ustad Muhammed Dabir Khan. Asit learned also from his sister from a very early age, especially the Thumri and various other semi-classical forms. Asit has formal training of nearly 30 years in classical vocal music.
Although seriously constrained by his academic career, Asit has performed Khayal and semi-classical forms of music at several prestigious venues, and also in the US and in Europe during his younger days, and received high acclaims from both critics and general audience. Asit also performed in the Festival of India in the USA in the mid-80s.
Asit has a keen interest in Musicology and has taught a Master's level course on Indian Classical Music at the Music Department of The Ohio State University while he himself was a PhD student in Theoretical Physics at the same University. Asit has given lectures on his work on Musicology at several places in Kolkata including the British Council, Rabindra Bharati University and his own Institute. He has served for many years as an external expert in the Higher Degrees Committee of the Department of Instrumental Music of Rabindra Bharati University.
Asit taught music at the Tagore Institute in Bonn, Germany around 1990 continuously for about three years while his wife Bratati, a disciple of Vidushi Amala Shankar, Guru Kalamandalam Venkit, Vidushi Thankamani Kutty, and Vidushi Alokananda Roy, and an ex-member of the Mamata Shankar Ballet Troupe, taught dance there.
Recently Asit was invited to write an article on the musical part of the discussion between Albert Einstein and Rabindranath Tagore as a contribution to a book published by the famous publishing house 'Sahitya Samsad' of Kolkata. The book was launched during the International Book Fair 2014 in Kolkata and currently in its second print.
Asit has many faceted interest in music. He has some training in Carnatic classical music as well (has learned from the Late Lalitha Swaminathan, a disciple of the legenadry Maharajpuram Santhanam). Asit has performed in the Thyagaraja festival in Washington DC and also has sung for several full-fledged Bharatanatyam concerts in his younger days. Asit has also learned Rabindrasangeet, Najrul-geeti and other forms of Bengali vocal traditional music from well-known gurus.While a student in the US, Asit composed the music of a full two-hour-long dance-drama based on the epic Ramayana where the music and the dance were strictly in different Indian classical forms, both Carnatic and Hindustani. The dance-drama received very good reviews from experts and general audience alike.
Asit Kumar De is an academician by profession. He is currently Senior Professor and Head of the Theory Division of the Saha Institute of Nuclear Physics, Kolkata.
Ravi Mathur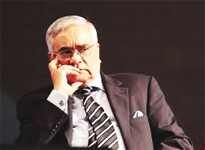 Ravi Mathur who joined the ITC-Sangeet Research Academy as Executive Director on June 16, 2009 is an old ITC hand. Mr Mathur joined ITC Ltd as a Personnel Pupil through a campus interview at Bombay University's Jamnalal Bajaj Institute of Management Studies in 1971. He also has a degree in Mechanical Engineering. His vast experience in ITC includes several inter-divisional and inter-functional assignments spanning thirty-six years of service. He retired from ITC in May 2007 as General Manager, Corporate Human Resources.
Professor Amlan Das Gupta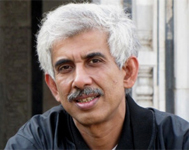 Amlan Das Gupta is Professor of English in the Department. He has taught for more than 3 decades now, mainly at the universities of Calcutta and Jadavpur. He was educated in Kolkata and Oxford, and has an M.Phil in Renaissance English literature and a PhD on the writings of John Milton. Subsequently, he has  worked in other areas too, such as classical European thought and the history of Christianity: he runs courses in classical Latin and Biblical Greek in the Department. His publications in his professional field include editions of Shakespeare's Measure for Measure and Aristotle's Poetics; an edited collection of essays on Renaissance literature; translations of Bengali fiction into English. He has published articles in scholarly journals in these, and other, fields. He has held visiting positions at Pune University, Universiti Malaya at  Kuala Lumpur, Delhi University and Macquarie University, Sydney.
For the last few years Amlan Das Gupta has been working on creating an archive of North Indian classical music at the School of Cultural Texts and Records, Jadavpur University. He received grants from the UGC and the British Library under its Endangered Archives Project to continue and strengthen this work. In 2010 he  assumed charge of the School as its Director and is in overall charge of its current programmes. He has written extensively on the history of North Indian classical music.
His publications on Indian Classical Music includes:
My Life: Khansaheb Alladiya Khan (translated with critical introduction, with Urmila Bhirdikar) (Kolkata: Thema, 2000)
Music and Modernity: North Indian Classical Music in an Age of Mechanical Reproduction (Kolkata: Thema, 2007).
 Professor Goutam Nag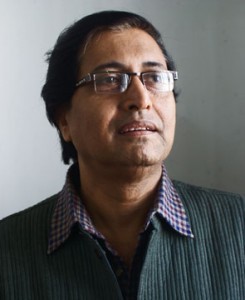 The well-known musicologist Professor Goutam Nag and currently serving as the Professor & Head, Department of Instrumental Music, Rabindra Bharati University.  He has several publications to his credit. He participated in many seminars around the country. He is a commendable vocalist and composer. His research interest include History of Indian Music, Indian Musical Treatises, Indian Musicology. He has delivered lectures in different scholarly conferences organized by learned bodies like Asiatic Society, Indian Museum, Ramakrishna Mission Institute of Culture and others.
Dr. Debasish Mandal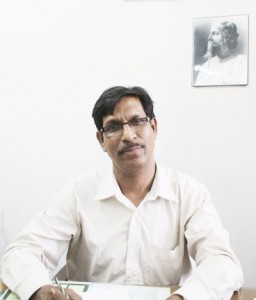 Debasish Mandal is a renowned educator and scholar. he is currently serving as an Associate Professor, Department of Instrumental Music, Rabindra Bharati University.  The areas of his research interest are Folk and Tribal Music of Bengal, Labour Music, Music of the Insects and theorizing of the musical practices of India from historical and current perspectives. Dr. Mandal had his Ph.D. from the Rabindra Bharati University. He participated in a number of national seminars. He organized several national seminars and one international seminar. Dr. Mandal has several national level publications to his credit and widely taken part in academic seminars.
Anindya Banerjee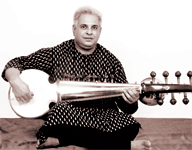 Anindya Banerjee represents the Senia Maihar Gharana and is one of the most scholarly sarode players of India. Recognized for his "delicacy mixed with dexterity" Anindya brings a "distinctive touch and refreshing approach to his music". Anindya Banerjee's style of presentation is heavily influenced by traditional styles of sarod playing. He has successfully integrated Rabab, Sursrinagar and Beena elements into his style. He prefers to play often rare ragas and compositions. He has made a special effort to collect old compositions and has done research in the repertories of many old masters of instrumental music.
Born in 1958, son of noted vocalist Srimati Aradhana Banerjee (Diciple of Ustad Sagir Khan of Rampur and Pandit Chinmoy Lahiri). Started learning sarod in 1968 at the Ali Akbar collage of Music, Calcutta, receiving trainings from Shree Dhyanesh Khan, Shree Aashis Khan, Ustad Bahadur Khan, Pandit Nikhil Banerjee and Ustad Ali Akbar Khan. He continued his training with Ustad Ali Akbar Khan till the later passed away in June, 2009.
Anindya Banejree has performed in major concerts in Kolkata and in other cities in India. In 1979 he toured Bangladesh with Ustad Ali Akbar Khan as a cultural delegate.In 1984 he accepted teaching assignment at the Alauddin School of Performing Arts, Calgary, in Canada and also gave a number of concerts in major Canadian cities. In recent years he has made highly successful concert tours of Europe, performing at various cities in Germany, Holland, Switzerland,U.K and U.S.A.
For a number of years, Anindya Banerjee was music critic for the Telegraph and The Statesman, leading Calcutta dailies, he still writes on music, musicians and musicology. Apart from the sarode he plays the ancient and almost extinct instrument the SURSRINGAR and his attempt to revitalize this nobel instrument has received praise from many quarters. He has performed this instrument in Rare Instruments festival, Bhopal, Dhrupad festival, UK, World Lute Instrument festival, Germany and Vadya Darshan organized by Sangeet Natak Akademi, Delhi.In the year 2002, he received Senior Fellowship in Hindusthani Classical Instrumental Music from Ministry of Culture.Govt.of India on SURSRINGAR.
Apart from performing Anindya has also composed music for theatres, documentary films and ballet. He was an influential figure in a recent Docu-feature film"Anwesha" on the life of the Courtesans of Kolkata. His other documentaries which received international praise includes "Twaif" and "Kheyal". His recent documentary film"Remembering The Legend" on Maestro Ali Akbar Khan received rave reviews in Kolkata. He has participated and read papers in many seminars both in India and abroad. He has translated autobiography of Baba Alauddin Khan from Bengali to English. He has presented many musical talks in A.I.R. Kolkata.
In 1989 Sursringar Samsad of Mumbai conferred upon him the title "Suromoni". His other interests include the visual arts and sports. He is a qualified Lawyer too. Since 2007 he has started teaching and giving lectures on music in the summer school of Asian Music Circuit of London.
Bappa Sen
General Secretary, The dover Lane Music Conference, Kolkata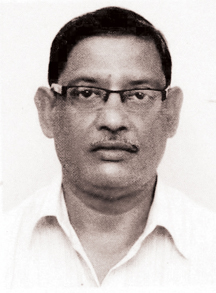 Bappa Sen, is a documentary and Short Film maker and owns a Documentary production concern and working independently in this field from 1990. Sri Sen started his career as an Assistant Director to several eminent Directors of Kolkata and worked in several feature and documentary films. He also taught film theory and videography in the Deptt. of Mass Communication (M.A.Course) at Rabindra Bharati University, B.T. Road Campus, Kolkata as a guest lecturer and external examiner from 2004-2011. He is also an active Film Society activist, associated with Cine Central Calcutta as an executive committee member since 1978. Apart from his own profession, he is an ardent listener of Indian Classical Music since his childhood which led him to become one of the organizers of the prestigious 'The Dover Lane Music Conference', Kolkata.
Debasish Mukherjee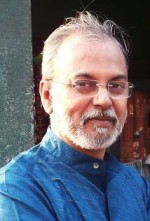 Debasish Mukherjee is the Assistant Director of Programme of the All India Radio, Kolkata. In addition to his general activities in the AIR he has made significant contribution by producing many serial programmes on Indian classical music with eminent musicians and musicologists and regularly conducts "Music Appreciation Programme". Debasish is a sitar player and featured in National Programme of Music of AIR. He extensively learnt with Pt. Ssantosh Bandyopadhyay and also had guidance from Pt. Soumitra Lahiri. He conducted several music workshops in different cities of the country.
Malini Mukhopadhyay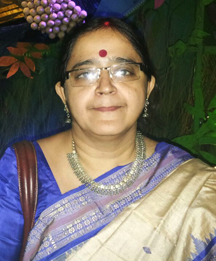 Born in a family of music lovers , Malini is an A grade artist of Akashvani Kolkata since 1995 ,was introduced to Hindusthani Classical Music at a tender age of seven by Late Shri P. K . Mukherjee ,one of the closest disciples of Ustad Amir Khan . During this period , she has also been receiving training from Smt Purabi Mukherjee , also a close disciple of Ustad Amir Khan .After his sad demise in 1984 , Malini has been receiving musical training from Shri Kamal Banerjee ,who also had the privilege of receiving intensive training and be in close association of the Great Ustad .
Her first success was achieved in Akashvani Music Competition in 1980 at the age of 16 and since then , she has been broadcasting from Akashvani.She was subsequently upgraded to 'A'grade artiste of Akashvani from 1995. She was awarded the title " Sur-mani "from Sur-Singar-Samsad , Mumbai in 1986 and was invited to perform in the "Haridas Sangeet Sammelan",Mumbai soon thereafter . She is empanelled musician of ICCR since 1992.
With the serious training received from her Gurus , Malini has painstakingly acquired the characteristic attributes of the "Indore Gharana " ( established by the great Ustad ) ,namely ,sobre introspective presentation of the Ragas ,the Khandmeru sargams , Chhut Tans etc . Simultaneously , she also able to develop an individualistic style of her own which is predominant in her renderings .
She has featured in the AIR Tuesday Night Concert, AIR Sunday Night Concert ,National Programme of Music of AIR ,the latest on June 2007. Her first appearance in Doordarshan was in 1981 and since then she has been telecasting as a regular artiste of Doordarshan and in Doordarshan National Programme in January 2005 .
She has many successful performances to her credit , notable among which which include Dover Lane Music Conference , Salt Lake Music Conference, Bhowanipir Sangeet Sammelan Musical Conference organized by the State Music Academy – Govt of West Bengal , Sangeet Mahavidyalaya ,Silchar , AllIndia Radio ,Siichar,Siliguri and Pune , Classical Music Conference at Varanasi ,National Programme of Akashvani & Doordarshan, Special AIR recording for DTH transmission of Classical music ,& Gidhaur Musical Conference organized jointly by Akashvani & Doordarshan and numerous other musical concerts organized in various parts of the country. In 2010,September, she performed in the Akashvani Sangeet Sammelan,the concert of which was held at Shimla. She has been a regular performer of vocal classical music in important musical circles.
Her aesthetic delineation of Ragas true to the Raga structure and Tans of varied nature( avoiding gimmicks ) are being increasingly appreciated by her listeners
Malini's musical renderings are being increasingly appreciated by music lovers and critics. Along with her serious talim in classical misic, Malini continued her academic persuit and has to her credit , a first class MSc degree in Biochemistry from Calcutta University.
Selected as Programme Executive through UPSC , she joined Doordarshan Kendra in 1988 and since then has been serving in the organisation . Presently she is serving as Assistant Director (Programmes) at DDK Kolkata and is looking after both programme management and programme production matters . She has produced many notable programmes on music and Science ( Science Quiz ….Quest series) which were also telecast on Doordarshan National Network as well as other Doordarshan Kendras.
Goutam Ghosh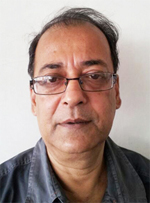 A versatile creative personality Goutam Ghosh is a sarod player, a composer, a conductor, an arranger, an educator, a writer, a music critic.  He was a regular columnist for the famous weekly Desh during 1986-92. He regularly writes for different newspapers and journals. He has composed music for around 300 dramas in Bengali and Hindi. He also composed music for cinema, short films , tele-films, operas,  large ensemble orchetra, and large choir.He has several music albums to his credit. He has been felicitated for his work in the country and foreign countries.
Mr. Ghosh was associated to the Satyajit Ray Film and Television Institute [SRFTI], Bengal Music College and West Bengal State University as Visiting Faculty. Mr. Ghosh visited Canada United States and China and did workshops on Indian Music.
He is also the Director of J.N. Tagore Centre of Research at the Rabindra Bharati University.
Dr. Tapasi Ghosh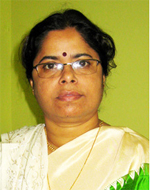 Dr. Tapasi Ghosh, born in Burdwan, in the state of West Bengal in India, graduated from the University of Burdwan,  topped the list of Sangeet Praveen Examination (Masters in Music)  in Hindustani Classical Vocal Music and remained a record breaker and recipient of Gold Medals. She did her Ph.D. from Indira Kala Sangeet Vishwa Vidyalaya. She has vast experience of teaching formal music from School level to University level and presently working as Assistant Professor in the University of Calcutta.
In addition to obtaining formal degrees, she learnt music under strict Guru-Shishya Parampara (traditional way of learning) for more than fifteen years from legendary Pandit D. T. Joshi, she has a large repertoire of Joshiji's vast compositions and has inherited his beautiful and unique style. After his demise she received taalim from Ustad Safi Ahmed Khan of the Agra Gharana.
Besides teaching music Dr. Tapasi Ghosh is a research oriented musician and musicologist. She authored a book based on her in-depth research and study  titled "Pran Piya" on the life and contribution of Ustad Vilayat Hussain Khan of the Agra Gharana, published by the Atlantic Publishers, Delhi, which has received wide popularity among scholars, researchers and music lovers of the country and abroad. She has supervised scholars of music in the country and abroad. She has presented vocal recital, lecture demonstration and papers in many seminars, workshops and conference etc. She made public performance in various parts of the country. To name a few of her performances are in Mumbai, Delhi, Banaras, Baroda, Jaduguda, Shantipur, Allahabad, Burdwan and Kolkata which have been highly appreciated by the audience. Her audio CD of Hindustani classical music 'Nivedan' has become widely popular. She is a regular performer of different TV channels like TARA MUZIC, Zee Bangla, Om Bangla,  DD Bharati etc.
Dr. Devajit Bandyopadhyay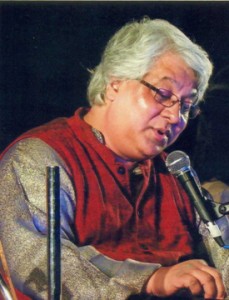 A graduate with honours from Calcutta University and a post graduate from Rabindra Bharati University, Devajit Bandyopadhyay was awarded Ph. D by the Jadavpur University for his thesis on Bengali Theatre Music. A producer-director of several telefilms and teleserials, commissioned by Doordarshan and other several channels of same repute . A disciple of the Sarengi – maestro Ustad Sagiruddin Khan, Devajit apart from the regular musical soirees, has participated in a number of national and international festivals with his Mancha-Gaan as the pioneering exponent. Apart from the Junior and Senior Fellowship, he is the recipient of the honour of Tagore National Scholar from the Ministry of Culture, Government of India.
Arpita Chatterjee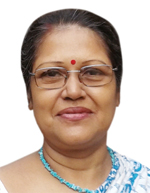 Arpita Chatterjee is a musician, writer and teacher.  She was initiated into Hindustani classical music by Shrimati Dipali Nag of the Agra Gharana.
She also received musical guidance from Pandit T.L. Rana and his students Shrimati Kalpana Chatterjee and Shri Sisir Roy Chowdhury. Her interest in further understanding the gayakee of the Agra gharana took her to Vidushi Aparna Chakravarti, disciple of Ustad Bashir Khan, from whom she learnt for over 15 years. Since her guru's demise in 2007, she learnt for about 2 years from Pandit Vidyadhar Vyas of the Gwalior Gharana. Since 2011 she is being guided by Vidushi Purnima Sen of the Agra-Atrauli Gharana.
From July 2004 till August 2009, she was in charge of the Academic Research Department of the ITC Sangeet Research Academy, where she edited the newsletter 'Parampara', was on the editorial board of the journal 'Ninad', designed & presented the Academy's FM programme and coordinated the Academy's first Music Appreciation Course.
Since September 2009 she has been working independently. Her assignments have included working for organizations such as Karmayog Foundation, (www.ky21c.org) S M Tagore Centre for Documentation and Research of Languishing and Obsolescent Musical Instruments, Rabindra Bharati University, (www.smtagorecentre.com); Purple Eduinfo Services Pvt Ltd, South Point High School(www.southpoint.edu.in) and Akshar School (www.aksharschool.org).
Besides her written assignments, she has also performed at Jhulanjatra Music Festival 2010, Ekameva 2011, Spring Festival 2012, Basant Utsab 2013, to name a few, and has hosted several programmes including Jnana Pravaha & Sangeetashram's Young Maestros Conference and regularly conducts 'Sangeetika', an Inter-school Music Quiz.
Chandan Kumar Roy
Guest Teacher, department of Instrumental Music, Rabindra Bharati University [India]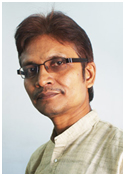 Dr. Chandan Kumar Roy did his Ph.D. from the Rabindra Bharati University, Kolkata in 1997 on 'Bharatiya Raag Vargikaraner Kramik Itihaas ebong Sutranusandhan'. He started serving the RBU immediately after receiving his research degree. He received training in Hindusthani Khyal under the tutelage of Pt. Natabar Haldar of Shyam Chaurasi Gharana. He published a number of books and research papers on music.
Partha Pratim Choudhury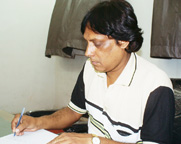 Partha Pratim Choudhury received his doctoral degree from the Rabindra Bharati University, Kolkata. He had the opportunity to learn Pakhawaj under the guidance of Pt. Chanchal Bhattacharya the famous Pakhawaj player of Bengal. He is involved in a number of cultural activities.
Currently he is a Guest Faculty at the Department of Instrumental Music of Rabindra Bharati University.
Sagnik Atarthi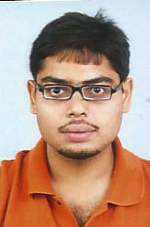 Sagnik is an ICSSR Doctoral Fellow at the Centre for Studies in Social Sciences, Calcutta (2011-2014) currently is working with Dr Lakshmi Subramanian, Professor of History at the Centre for Studies in Social Sciences Calcutta. Working Title of Thesis: Towards an Alternative History: Bengal and its Musical Publics (1940-1970)
2011- M. Phil in Social Sciences, Centre for Studies in Social Sciences, Calcutta.   |   2009- Master of Arts in History from Jadavpur University   |   2007- Bachelor of Arts with Honours from Presidency College, Calcutta University
Research interests include social and cultural histories of music and performance in South Asia.
Troilee Dutta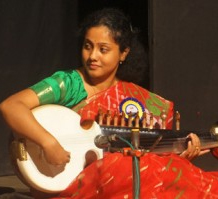 Troilee Dutta received first class first (Gold Medalist) in M.A. (Music) from Rabindra Bharati University, Kolkata. She has qualified in the UGC-NET for Lectureship and now perusing her Ph.D. at the Department of Instrumental Music, Rabindra Bharati University, Kolkata. Ministry of Culture, Government of India awarded her 'National Scholarship' in the year 2010-2011. Troilee received training in sarod in traditional mode under the guidance of Pt. Kamal Mallick for many years. Currently she receiving guidances on advanced techniques of music making from Pt. Sanjoy Bandopadhyay. Her sarod recitals regularly gets featured in the All India Radio, Kolkata. In the year 2009 she stood first in both the competitions organized by "Sri Aurobindo Institute of Culture, Kolkata." and "The Dover Lane Music Conference & The Dover Lane Music Academy." Troilee featured in  television programs like Tara Muzik's Jalsaghar and Aaj Sokaler Amantrone. She  has also performed in Kolkata TV live. She recently  worked in a Government of India's Films Division Project.
 Sookanya Sarker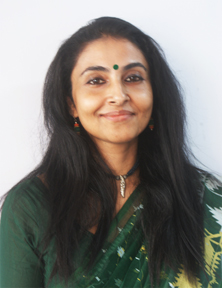 Sookanya Sarker is a Ph.D. scholar of the Department of Instrumental Music, Rabindra Bharati University. She did her graduation in Mathematics from Visva Bharati University.  She did  her masters in instrumental music from  Rabindra Bharati University. She was the topper in her MA examination. Sukanya was initiated in Sarod by his father Sri Ashok Sarkar,  a disciple of Late Pt. Radhika Mohan Moitra. After that she was under the tutelage  of Pt. Buddhadev Dasgupta for quite a long time.  She ranked 4th in Dover Lane Talent Search contest in 1997-98.  She worked as a Guest Faculty in  Roop Kala Kendra (An Indo Italian Institution) for  Music Appreciation in Films. She worked as background musician in some tele-serials (EPISODIC) directed by  renowned  film director Raja Sen. She also worked in "Abar Aronye" directed by  celebrated director Gautam Ghose. She has participated in some workshop and programmes on Film Appreciation  conducted by Anupam Kher's 'ACTOR PREPARES' in Mumbai.
Nityananda Bag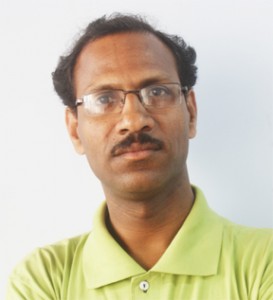 Nityananda Bag is pursuing his research under the Ph.D. program of the Department of Instrumental Music, Rabindra Bharati University. He also worked on preservation of manuscripts.
Uday Sankar Roy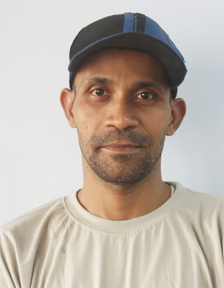 Uday Sankar Roy is pursuing his research under the Ph.D. program of the Department of Instrumental Music, Rabindra Bharati University. he takes interest in studying musical instruments making.