| | |
| --- | --- |
| Told by | Pt. Sanjoy Bandopadhyay |
| Obtained by | Rajeswary Ganguly Banerjee |
| Date | 18th August, 2016 |
| Place | S.A.P. Lab, Department of Instrumental Music,Rabindra Bharati University ,B.T. Road Campus, Kolkata. |
| About the speaker | Sitar Maestro, Chair   Professor, Department of Instrumental Music, Rabindra Bharati University |
| Tags | 1974, Park Circus Music Conference , Nikhil Banerjee, Sitar, Debiprasad Chatterjee, 1975, Kanai Dutta,Tabla Tanpura Tuning,Bilaskhani Todi,Asavari Todi, |
| Language | English |
Pandit Sanjoy Bandopadhyay speaks:
Tuning and Nikhil Banerjee
Told by: Pandit  Sanjoy Bandopadhyay
Text Version:
Long back, it should be 1974/75 or may be 73. I had been to Kalamandir (Auditorium, Theater Road), in 'The Park Circus Music Conference'. And that was the final day and Nikhilda, Pandit Nikhil Banerjee was the last musician to perform. Earlier musician was Sunanda Pattanayakji. I was looking at my watch. I was sitting at the auditorium but impatiently waiting for the time to come… because I wanted to leave the auditorium at least 45 minutes ahead of time before Nikhilda sits on the stage. I left the auditorium and went to the greenroom and saw a few people over there. Nikhilda (was) tuning his instrument and behind him was Debi da (Pt. Debi Prasad Chatterjee) and Pandit Kanai Dutta was on Tabla. Kanai Dutta was close to me, because I used to go to his house and all. Nikhilda of course was quite known to me. He was almost my demigod! We used to worship him as a kind of demigod for music and was my Gurubhai because he also learnt with my teacher.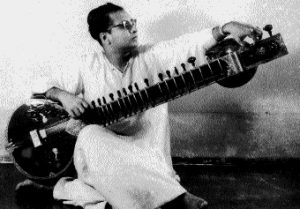 He was tuning his instrument; … and sometimes he was putting his finger on the Tanpura and slightly readjusting … and was tuning (his instrument uninterruptedly). Minutes passed, fifteen minutes passed, tewnty minutes passed — by but he was continuously tuning … Kanaida was talking to somebody, kind of whispering… people were silent. Silence was all around…. Then a good looking lady…with ornaments and all…. appeared to be from a well off family…… she came in the greenroom. Kanai da knew her. She was standing before Nikhilda, but he didn't look (at her), his head was down and (he) was tuning. Then Kanaida asked her," Do you want to talk to Nikhil?" She nodded. Kanaida gestured, 'try'. Then the lady bent down and touched Nikhilda's feet. Then the thing happened—! He just shivered- he jumped up-. He was so much engrossed in tuning that he didn't have (the sense) that what's going in the vicinity- what was going on around him. So when that lady touched his feet that (was like) a shock for him. That was the amount of attention and involvement of Nikhilda in tuning. Anyway I was enjoying what was going on.
Then the organizers came because Sunanda Pattanayakji's concert…..rendering was over . They came (to take him), but they were just standing there. No one had the courage to ask him that it was time for him to go to the stage. Then after talking to their organizer Kanaida asked ," Is it the time that we go to the stage ?" they replied ," Yes, yes". Kanaida said," Tell him". Then the organized said," Why don't you request him?" Then Kanaida told him, "?????, ??? ??? ????, ??" ["Nikhil now this is the time to go to stage" ]. Then Nikhilda took his Sitar and went to the stage. I ran fast and went to the auditorium. There again he tuned about 10 minutes and started Bilashkhani Todi, played 2 ½ hours of BilashkhaniTodi, alap-jod-jhala followed by 1 ½ hour of Asavari Todi.
It was a memorable concert and the 'Ni-Da-Sa' the starting phrase I still remember. I felt that Bilashkhani Todi got incarnated with one stroke……… amazing experience.
—————————-
Verbatim by: Mousumi Das
20/08/16
Picture Courtesy: Google
https://www.google.com/search?q=nikhil+banerjee&client=firefox-b&source=lnms&tbm=isch&sa=X&ved=0ahUKEwiv3o7otqDbAhXCjZQKHfDkCfkQ_AUICigB&biw=1366&bih=631#imgrc=1fbn5th–HwTEM:
Edited & Designed: Ms. Rajeswary Ganguly Banerjee
Data processed at SAP-DRS Lab, Department of Instrumental Music, Rabindra Bharati University