| | |
| --- | --- |
| Told by | Subrata Roy Chaudhury |
| Obtained by | Sanjoy Bandopadhyay |
| Date | 14 December 2014 |
| Place | At Kolkata residence of Pt. Subrata Roy Chaudhury 6, Canal Street, Kolkata 700014 |
| About Subrata Roy Chaudhury | Well-known sitar player, scholar |
| Key words | Amir Khan, Jhankar, Pradyumna Mukherjee, Purabi Mukherjee, A. Kanan, Vasant Bahar, Ramdasi Malhar, Dixon Lane, 1950's |
| Language | English |
Subrata Roy Chaudhury speaks:
Text Version:
As for example,  Amir Khan Sahib's introductory concert. It is said that Amir Khan Sahib used to visit Jnan babu every day. Every day because he didn't get a chance to perform and one day Amir Khan Sahib decided to leave Calcutta. He had problem in Vilayat Khan's household because there would be a divorce between Vilayat Khan's sister and Amir Khan Sahib, they were married. And then Amir Khan Sahib to get out of Calcutta was accumulating money.  He only gave tutorial to two or three. Pradyumna Mukherjee, he taught, he taught Purabi Mukherjee and someone else.  And he used to save this money every time so that he could go to Bombay. And one day decided – I will leave for Bombay. So he went to Jnan babu. This was told to me by A. Kananji who also Amir Khan's oldest disciple. So he went to Jnanbabu and said- 'Jnan babu, apke Ghar aate aate to mera chappal tut gaya. Ab to mujhe gawaiye conference main' .(Jnanbabu, literally I torned my chappals after visiting your house regularly. Please give me a chance to perform in a conference). Jnanbabu said – Ha ha, yeh to karna hi padega' (yes yes, of course this is surely needed to be arranged.) ab kab ja rahe hai? (When are you going?).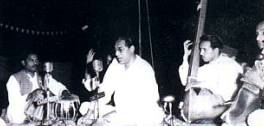 –  So did the concert happen in Jhankar?
(He) Make shift within fifteen days one concert was arranged. And Amir Khan Sahib…I have that recording, not here but abroad.  I got hold of that recording, Vasant Bahar. People didn't hear Amir Khan in concert normally. Vasant Bahar and a brilliant Ramdasi Malhar, that was his introductory concert then he went to Bombay and then he signed for Baiju Bawra after which he never looked back, he became over night famous.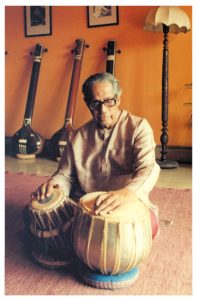 –  Yes, in Dixon Lane, 20 or 25 Dixon Lane. I don't remember the number but after Prachi Cinema I have to go into Dixon Lane, the first house with a gate.
–  So what would be the period, what time and in which year?
– I went to Jhankar regularly when I started learning Sitar 56, 57, 58.
– Then it should be 50's.
– Yes, then of course then it shifted from Jnanbabu's house. It became much smaller. Mukul Chakraborty looked after it some time. And I played there also in 1978 or something.
– I just wanted to know that in this Amir Khan Sahib's Concert that Jnan Babu arranged didn't happened around 1950s?
– You can find out two years before Baiju Bawra.
– Ok. Good good. That's sorted out. It's Wonderful.  Thank you very much.
Verbatim: Dr. Suranjita Paul
Picture courtesy: Google
https://www.youtube.com/watch?v=e70Py6kgEsc
http://www.abhijitbanerjee.com/legacy.php
Edited & Designed: Dr. Suranjita Paul
Data processed at SAP-DRS Lab, Department of Instrumental Music, Rabindra Bharati University