| | |
| --- | --- |
| Told by | Dr. Amlan Dasgupta |
| Obtained by | Rajeswary Ganguly Banerjee |
| Date | 20th Februray. 2017 |
| Place | Jadavpur University, Department of English |
| About the speaker | Amlan Das Gupta is a Professor of English, Jadavpur University, He has built an archive of North Indian classical music at the School of Cultural Texts and Records at Jadavpur University. He has also offered a course on the history of North Indian Classical Music. Education – University of Oxford. |
| Tags | Abdul Karim Khan, Live Recording, Karachi, 1930'S, Seth Narayan, Bal Gandharva |
| Language | English |
Dr. Amlan Dasgupta Speaks :
Verbatim:
There is something which is for me, might be a great experience which I have had for the last five years, is listening to live recordings of Sahib, which was recorded by in the early 1930s by a Karachi or Lahore business man called Narayan on some equipment which I have not been able to indentify. He was recorded in ten mini clips. So what recorded in ten minutes at that time I have no idea. Books don't say anything about it. History of technology is silent on this till date, what thing it is, because it was interwar period or and clearly what they were, for instances, transcription discs. But they weren't here at India.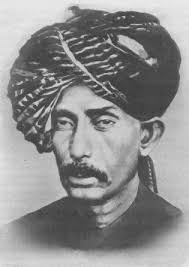 It is possible that Seth Narayan got it from somewhere. He was a rich man, he used to fly aeroplanes. At that very early time, he was very fond of Bal Gandharva. He likes the recordings of Bal Gandharva. But he has three or four recordings of Abdul Karim Khan Sahab. This the only thing only time I have been able to hear.
Verbatim by: Dr.Suranjita Paul
Picture Courtesy: Google
http://camitava.0catch.com/maestros/abdulkarim.htm
Edited & Designed: Ms. Rajeswary Ganguly Banerjee
Data processed at SAP-DRS Lab, Department of Instrumental Music, Rabindra Bharati University.