| | |
| --- | --- |
| Told by | Pt. Anindya Banerjee |
| Obtained by | Sukanya Sarkar |
| Date | 9th March 2015 |
| Place | 50/1A Purnadas Road, Kolkata-700029 |
| About the speaker | Pt. Anindya Banerjee is an eminent Sarod and Sursringar player of Maihar gharana |
| Tags | Ramakrishna Mission, Golpark,  M.S. Gopalakrishnan, 18000/-, 19000/-, Artist, Organiser, Ulhash Kashalkar, 5000/-, 8000/-, vocalist, Tabla player, United States, Concert, Samta Prasad, Reception, Lahara, Disciple, 1977, Audiences, All night concert, Ali Akbar khan, Vilayat Khan, Duet, Girija Debi, Nikhil Banerjee, Netaji Indoor Stadium, Allauddin Music Circle, Stage |
| Language | Bengali |
Pt. Anindya Banerjee speaks:
Verbatim:
I had a very odd experience while organizing concerts for Ramkirishna Mission, two or three I'll mention, one is, it's basically based on monetary things,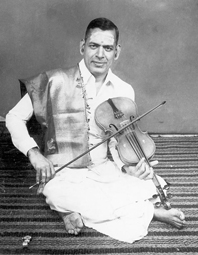 Once M.S.Gopalkrishnan refused to take some extra money, what happened, he was suppose get rupees eighteen thousand  or rupees nineteen thousand or  something, but instead in order to make it round off  and we wanted to pay him rupees twenty thousand, but  he refused to take that, and we said that we have  made this voucher so we can't cancel it,  but he said no no, he was adamant, he said you make a new voucher and then I'll accept it. So we had to give him the exact amount. Which is a very rare thing because in most of the time the artists want to grab as much as money from the organizers.
Second thing happened also with Pt. Ulhas Kashalkar. He agreed to sing with five thousand rupees, but he we had fund so gave gave him,eight thousand rupees, three thousand rupees extra, which he also refused, he said "no, I can't take that extra money and on top of that this is a very religious institution, I can't take extra money from them". So there were two other musicians, one very famous vocalist, who took first class air fare, he did not come and he used the ticket, and he never talked about that thing and never returned that money, which is very bad. Same thing also happened with one very famous Tabla player who resides in U.S.A. He didn't come and next time he said last year while coming to this concert I had to pay so much extra money, so please give me that money. But actually he didn't come and didn't spent any kind of money but we had to sent because he was such famous artist. So in organizing concerts, this kind of things happens.
It happened with Samta Prasad ji also, we organized a concert with three very famous Tabla player's solo, again in Ramkrishna Mission, so Samta Prasad ji came two years earlier than the concert and he stayed at Ramkrishna Mission guest house, he thought that this guest house is like a hotel, So he used to call at the reception at a very late night and asked for Paratha and Boti Kabab or something like that, and though it was prohibited but he used to have drinks there, then one day he fell sick, actually he fell sick after playing his Lahara, then we found that he consumed almost two k.g.s of Kaju Badam ( Cashew Nuts) and we came to know that from his disciples that their Guruji consumed that amount of Cashew Nuts, so we had a big problem in cleaning the room and so these things also happens organizing concert.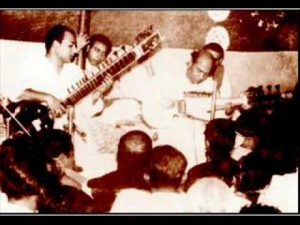 We also had a big fighting with the audience in 1977. We organized a night long concert of Ali Akbar Khan Sahab and Vilayat Khan Sahab duet, and also Girija Devi and Nikhil Banerjee at Netaji Indoor Stadium. We had a music circle called Allauddin Music Circle, on behalf of that we organized that concert. You know that the stage there is oval shaped and so everyone could not seat in front, because all tickets were sold out so many people were seating at the back side of the artists, which they didn't like, and they kept on shouting that 'you have to turn, you have to turn', which couldn't be possible and as we were the part of organizers wearing batches so people can find us and they started abusing us and somehow we have announced on the stage that it is not possible so please bear with us and just listen them playing but they kept on shouting that no we want to see them too and not only listening we also want to see their face and mood and expressions of the artists, so we were almost beaten up by the audience but somehow we were rescued so this is another part of organizing a concert.
Verbatim by: Rajeswary Ganguly Banerjee
Picture Courtesy: Google
http://www.sruti.com/index.php?route=product/product&path=6&product_id=339
 : https://www.google.com/search?q=Ali+Akbar+Khan+Vilayat+Khan&client=firefox-b-ab&tbm=isch&tbs=rimg:Cc7PoWHJDf43IjisxNeXoRJK-scTnfMi3xDjcqTilByHbevErH3XcVCY4Hx5hAb8JJvF6Aymb1zhdVcxwY7jGJMg1ioSCazE15ehEkr6EZ9Ui4oVctaXKhIJxxOd8yLfEOMR1Zbu4tUeh5kqEglypOKUHIdt6xEEzOLUczC0yioSCcSsfddxUJjgEfJ5W2UkAI53KhIJfHmEBvwkm8URbh308-pNm3oqEgnoDKZvXOF1VxGthIdLisaoqCoSCTHBjuMYkyDWEZqWrJZtciwv&tbo=u&sa=X&ved=2ahUKEwjy2ay0wr7bAhVDfisKHaBDAukQ9C96BAgBEBs&biw=1366&bih=631&dpr=1#imgrc=zs-hYckN_jdZlM:
Edited & Designed: Ms. Rajeswary Ganguly Banerjee 
Data processed at SAP-DRS Lab, Department of Instrumental Music, Rabindra Bharati University