| | |
| --- | --- |
| Told by | Jayasri Seth |
| Obtained by | Suranjita Paul |
| Date | 29 July, 2016 |
| Place | Kolkata residence of Dr. Jayasri Seth, Sath Chashi Para Road, Kolkata |
| About the speaker | Jayasri Seth, Guest Lecturer, Rabindra Bharati University |
| Tags | Aloke Chattopadhyay, 1995, Khayal, Kalidas De, Agra Gharana, Kirana gharana, Alap, Mirkhandi, Vistar, Betiya Gharana, Falguni Mitra , Shiba Prasad Mitra, Sur Sagar 1990 |
| Language | Bengali |
Dr. Jayasri Seth speaks :
Translation:
– You have got your learning of dhrupad and kheyal from Agra Gharana but then you got talim from Pt. Aloke Chattopadhyay, who was from a different gharana don't you have any problem to learn?
–  I had learnt kheyal from Pt. Aloke Chattopadhyay from 1995. Before that my first guru Kalidas Dey, was a very broad-minded person, he used to encourage me a lot. He told me that the style of Agra Gharana, the strength in the gayaki is not meant for your voice. The male strength would not suit you as you also sing rabindra sangeet.  You will render the things in moderation, bandish may be of Agra but the alap would be in kirana  gharana.  Kirana gharana's style is more mellow and beautiful. You will listen to their gayaki, their notations and sing in your style. My guruji was unique and he taught me to sing in Kirana gharana despite being him from Agra gharana. So, when I went to Pt. Aloke Chattopadhyay, he told me that my learning was perfect and he would not have any difficulty to teach me. I know now that if someone learns something wrong the guru had a tough time to erase it. So Pt. Aloke Chattopadhyay started to teach me from something I had learnt, he didn't have to erase. I started learning kheyal from him and he sent me to Aparnadi for Dhrupad. It was his generosity, I must say because he also taught dhrupad. I used to take bandishes from Aparnadi.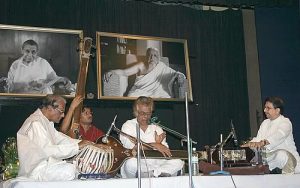 I still learn from Pt. Aloke Chattopadhyay, now Aparnadi has gone. I had a new guru for Dhrupad. Now I learn from Pt. Falguni Mitra of Betiya Gharana. Falgunida is the relative of my first guruji. When I sang for Sursagaar in 1990 Falgunida listened and told me that if you want to learn from me. But he was then in Bangalore and my guruji could not took me to learn from him then. I like Falgunida's singing a lot, he had a sweet voice and he didn't do the typical layakari of Dhrupad which is not very popular for masses. Pt. Falguni Mitra's father was Shibprasad Mitra was also a famous Dhrupadiya.
 Translated by: Arundhati Banerjee
 Picture Courtesy: Google
http://www.sriaurobindoinstitute.org/saioc/cultural/events/aspiration_2006
Edited & Designed: Dr. Suranjita Paul
 Data processed at SAP-DRS Lab, Department of Instrumental Music, Rabindra Bharati University