| | |
| --- | --- |
| Told by | Sri Rantideb Maitra |
| Obtained by | Rajeswary Ganguly Banerjee |
| Date | 4th March,2017 |
| Place | Sri Rantideb Maitra's Residence, Madur Daho, Kolkata |
| About the speaker | Renowned Music Collector and Music Connoisseur |
| Tags | 1921, Prince of Wales, Eden Garden, Principal  Raaga, Musician, Majid Khan, Binkar, Indore, Fida Hussain Khan, Sarod, Hafiz Ali Khan, Sur Sringar, Radhika pRasad Goswami, Gopeswar Bandopadhyay, Sur Bahar, Satya Kinkar Bandopadhyay, Nyas Taranag, Dhrupad, Kheyal, Sitar, Megh,  Bishnupur, Nizam , Maharaja of Gwalior, Maharaja of Baroda |
| Language | English |
Sri Rantideb Maitra speaks :
Text Version: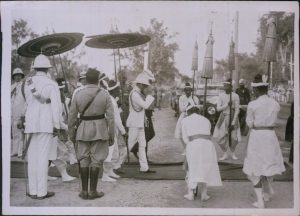 In 1921, when Prince of Wales visited Calcutta, a presentation was made to him in Eden Gardens where the six principal Ragas were to be presented by six principle musicians at that point of time. So musicians were chosen from all over India. I think I can give you the names of the musicians from my memory. Mostly Majid Khan, Veenkar from Indore, Fida Hussain Khan, the Sarodiya, then Hafiz Ali Khan who played the Sur Sringar. Radhika Prasad Goswami sang Dhrupad, Gopeswar Bandyopadhyay, strangely he played Sur Bahar and Satya Kinkar Bandopadhyay again strangely he played Nyas Tarang.
You know what is Nyas Tarang?
Naak diye jeta…. Kali Prasanna Bandopadhyay…he was the last Nyas Tarang Player. (Played through Nose and Kali Prasanna Bandopadhyay was the last one to play Nyas Tarang).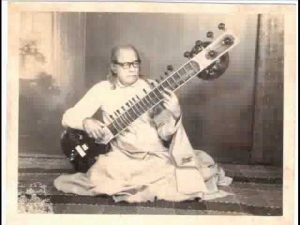 Satya Kinkar was Dhrupad singer, Khyal singer, Sitariya but he played Nyas Tarang. He played the raga Megh in Nyas Tarang. So these six Principal ragas, I don't remember who played which raga  but I know he played Megh in Nyas Tarang.
So amazing that out of these six musicians, six best musicians in India, three were from Bengal and from the same gharana that is Vishnupur. We Bengalis forgotten about this but this is on record, this book is available somewhere. This book was published in honour of Prince of Wales. Lot of Rajas I mean Nijam was there, Gwalior Maharaja was there, Baroda Maharaja was there and everybody of note was there at the point of time….1921.
Verbatim by: Dr. Suranjita Paul
Picture Courtesy: Google
https://www.oldindianphotos.in/2014/10/prince-of-wales-edward-viii-during-tour.html
https://www.google.com/search?client=firefox-b-ab&biw=1366&bih=631&tbm=isch&sa=1&ei=bLoXW6yDJpD59QPZ4Y3oCQ&q=SatyaKinkar+Bandopadhyay&oq=SatyaKinkar+Bandopadhyay&gs_l=img.12…35722.35722.0.37498.1.1.0.0.0.0.120.120.0j1.1.0….0…1c.1.64.img..0.0.0….0.2mbMHELAlAg#imgrc=ISCawHcDPSTwxM:
Edited & Designed: Dr. Suranjita Paul
Data processed at SAP-DRS Lab, Department of Instrumental Music, Rabindra Bharati University.